Alstro Nature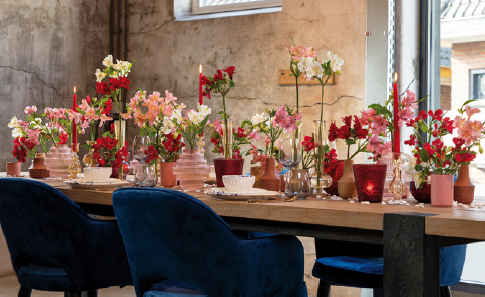 PERFECT FOR DAILY USE, WITH A NATURAL AND SPIRITED APPEARANCE.
Alstroemeria Nature: "Our standard, high-quality Alstroemerias for every occasion. Quality that fits every event, with a natural and spirited appearance."
The alstroemeria is often known as a commonly used flower in bouquets. Partly due to its green leaves and many flower buds, it adds volume to a bouquet. The Alstro Nature is perfect for these types of bouquets or in small low vases. With at least 3 flower buds there is always experience in the vase, the alstroemeria is therefore extremely suitable as a sustainable, usable flower.
Varieties in this segment:
Estee, Mistral, Elegance, Cinnamon, Forza, Tara, Noize, Rome, Carline, Virginia, Nirvana, Wonder Sweet
Alstro Nature Specs
Stems length: 65 cm
Weight: 20 to 45 grams
Number of flower buds: At least 3 flower buds
Maturity stage: 2-3
Stems: 10 stems per bunch
Stems: 10 cm defoliated
Package code: 588